School of Aviation Zaria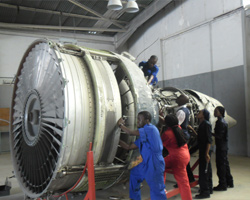 As one of the pioneering Schools of the College, the AME School started training students in Airframe and Powerplant disciplines. The Avionics discipline was later introduced. From a single Airframe and Powerplant Department in 1964, the School has grown into the present four departments, namely:
Airframe Department
This department conducts training on composite and metal structure of the aircraft and its systems - hydraulics, landing gears, pneumatic and environmental control leading to category "A" (Airframe) Aircraft Maintenance Engineer License.
Powerplant Department
The Powerplant Department is charged with the training of Aircraft Maintenance Engineers as well as Technicians in piston and gas turbine engine and engine systems - fuel, fire protection, lubrication and air cooling systems.
Avionics Department
This department handles the training of Aircraft Maintenance Engineers and Technicians in electrical, instruments, airborne radio and radar systems.
Aircraft Maintenance and Related Services.
This department trains Engineers and Technicians in general aviation-related sciences such as aerodynamics, aircraft materials, maintenance economics and occupational health and safety.
Training for ab-initio and other aviation courses in the School are based on International Civil Aviation Organization Standardised Training Manuals and African Civil Aviation Commission documents. On completion of such programmes, students acquire ICAO Type II licence and a Diploma in Aircraft Maintenance Engineering, Airframe and Powerplant or Instruments and Electrics.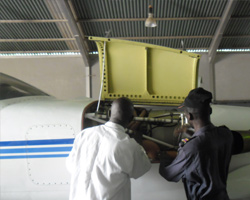 Facilities
The training programmes of the School are carried out in a modern facility with five state-of-the-art classrooms, a training hangar and fifteen workshops.
Achievements
Since its inception, over 560 graduates have been awarded Diplomas and Certificates by the School. Most of them have found employment in the airlines and aviation establishments. Some of the graduates came from other African and Asian countries.
Furthermore, a number of instructors are been trained in preparation for the JAR-66 conversion course to be introduced soon in the School's training program in line with the new Aircraft Maintenance Engineering Licensing programme.
Future Aspirations
The School intends to introduce the following Courses in the near future:
Airborne Radio Course

Non-Destructive Testing and Inspection (NDTI) Course

JAR-66 Conversion Course

Helicopter Maintenance

Aircraft Maintenance Management

Advanced Structural Repairs (Metallic and Composite Materials)
researchgate
talgov.com
superherohype.com
nutritiondata.self.com
telstra.com.au
astro.wisc.edu
camfrog.com
minecraft.curseforge.com
rtve
sitereport.netcraft.com
wikimapia.org
drinksmixer.com
kaskus.co.id
digitalcollections.clemson.edu
curseforge.com
tools.folha.com.br
engawa.kakaku.com
foro.infojardin.com
search.auone.jp
popcouncil.org
Source: www.ncat.gov.ng