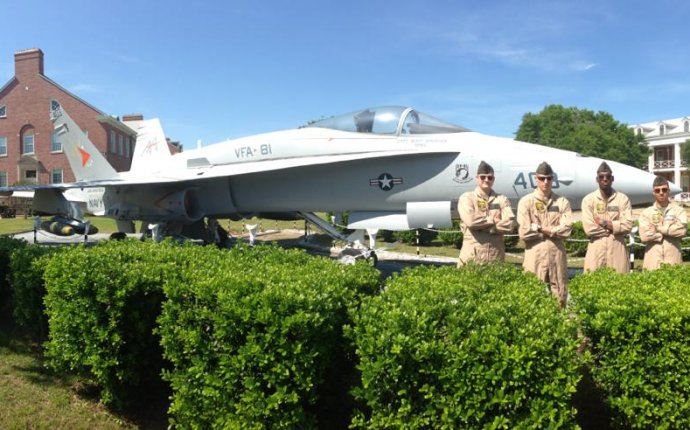 Marine Corps Pilot training
Becoming a Marine Corps Pilot Graham Monro/gm photographics/Photolibrary/Getty Images
The process of becoming a Marine pilot is arduous and competitive.
The following planes, helicopters, and hybrid machines are the aircraft of the Marine Corps. Marine pilots are capable of flying supersonic jets, hover in VSTOL aircraft, fly propeller transport planes, and a variety of helicopters.
USMC Fixed Wing Aircraft
F/A 18 – Hornet – The dual mission of the Fighter / Attack mode the F/A-18 offers is of paramount importance to the missions of the Marine Corps: fighter escort, enemy defenses suppression, air control, reconnaissance, and close air support of Marines on the ground.
is the future of Marine Corp fighter / attack missions and will replace the F/A 18 Hornet in the near future.
AV-8B Harrier – The Harrier is the Marines first Vertical / Short Takeoff and Landing aircraft (VSTOL). Using adjustable jets, the plane can hover, take off, and land with little to no run way and attack anywhere.
EA-6B Prowler – Electronic warfare of this jet enables Marines and Navy planes and helicopters to have air superiority. The EA-6B Prowler detects, jams, and / or destroys enemy air defenses.
KC-130 Super Hercules – The multi-versatile propeller transport and refueling plane operates in all environments with the mission capabilities that include: Delivery of Marines, fuel, and cargo, medevac, humanitarian assistance, battlefield illumination and more.
Helicopters of the Marine Corps
CH-53E Super Stallion – Is the heavy lift helicopter of the Marine Corps and capable of lifting or carrying 16 tons of cargo (vehicles, supplies, personnel). With its speed and agility and armament, the CH-53E is much more than just a heavy lifter.
AH-1Z Super Cobra – The Cobra / Viper is the Marine Corps close air support helicopter. Armed with rockets and guns, the AH-1 provided cover to advancing ground troops as well as escort of transport helicopters.
UH-1Y Huey – The versatile fighting Huey helicopter provides combat support as well as medevac capabilities. Some of the other missions is Close Air Support, Assault Support, Command and Control, and Aerial Reconnaissance.
MV-22 Osprey – Is a hybrid transport plane and helicopter. It has the range and speed of a turbo-prop plane and the maneuverability of a helicopter. The unique tilt rotor systems allows for vertical / short take off and landing of up to 24 troops and gear.
Though the Marines flying the drones are not pilots, they are skilled in operating the drones, communications, and target recognition. They are still part of Marine Corps Aviation. Marine Aviators will be communicating with these in flight systems.
RA-7B Shadow – Drone – Recent development of unmanned aircraft systems (UAS). The Shadow is used to help Marines on the ground with reconnaissance, target acquisition, and relay of communications.
Here are some of the hurdles prospective pilots have to clear:
Education
Pilots need at least a bachelor's degree, earned either at a civilian college or university or through the U.S. Naval Academy, ROTC, or OCS. The Naval Academy graduates on average 20% of the class into the Marine Corps.
Commissioning
Pilots must be officers commissioned at the rank of second lieutenant. Prospective pilots should contact a local selection officer to inquire about the steps for becoming an officer in the Marine Corps and let the officer know they are interested in pursuing the Marine aviator track.
Age Requirements
Aviator candidates must be at least 18 years old when enlisting, at least 20 years old when entering an officer candidate program and no older than 27 years old when receiving their commissions.
Citizenship
Marines must be citizens of the United States. If a prospective Marine is not a citizen, he or she may apply to become one upon enlistment — regardless of time lived in the U.S. — due to an executive order signed by President Bush in 2002 expediting the naturalization process for members of the military.
Testing
Any Marine seeking entry into officer training programs must have a combined Math and English SAT score of at least 1, 000, a composite ACT score of 22 or an Armed Forces Qualification Test score of at least 74 on the Armed Services Vocational Aptitude Battery. He or she also must pass the Navy/Marine Corps Aviation Selection Test Battery to become a Marine pilot.
Physical Condition
Prospective pilots must be in good physical and psychological health and must take a physical.
Flight School
After completing Officer Training School or Platoon Leaders Class, an aviator candidate will have a guaranteed spot in flight school in Florida, where his or her training will proceed in stages:
The Basic School - All Marine Officers attend The Basic School (TBS) in Quantico, Va, before moving onto pilot training.
Pre-indoctrination: This six-week phase includes an introduction to aerodynamics, aviation physiology, engines, navigation and land and sea survival in classrooms at the Naval Air Station in Pensacola, Fla.
Source: www.thebalance.com