US Aviation Academy
Boeing has forecasted a need for approximately 112, 000 pilots over the next 20 years. According to Oliver Wyman, a consultancy, current capacity will create approximately 64, 0000 airline-ready pilots over the next 20 years – far short of demand. Shortages are already apparent in the flight training and regional airline markets with wages rising 10% per year or more. International student? See the below. Ready to apply? Skip to the .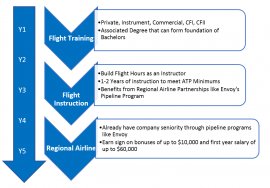 In a few short years, you can go from a high school graduate to a first officer at an airline, flying around the country in passenger jets. The need for pilots has never been greater. Airlines need you!
Professional Pilot – Airplane
Semester 1
Cessna-172 (~50 hours)
Semester 2
Cessna-172 (~45 hours)
Semester 3
Intermediate
Cessna-172 (~50 Hours)
Semester 4
Commercial
PA-28 and C172 (~70 hours)
Semester 5
PA-28 (~25 hours)
Semester 6
Flight Instructor – Instrument
Cessna-172 (~20 hours)
Optional
Multi-Engine
Piper Seneca (~20 hours)
During these six semesters, you will also be taking academic classes for your associates degree. Students take approximately 60 credit hours of courses, most of which are aviation-focused. There are also about 12 hours of general educations credits. Some of the academic courses you'll be taking are:
Air Navigation
Aerodynamics
Human Factors in Aviation
And much more!
Financial Benefits
The career path is looking up for pilots! Graduate of TCC's Professional Pilot program can expect to pay less for education and make more for a starting salary. US Aviation has partnered with Envoy Air to create a clear career path for students. Graduates of the TCC program can apply to become Envoy Cadet Instructors who are able to roll straight into Envoy Air as first officers upon reaching ATP minimums.
Source: www.usaviationacademy.com