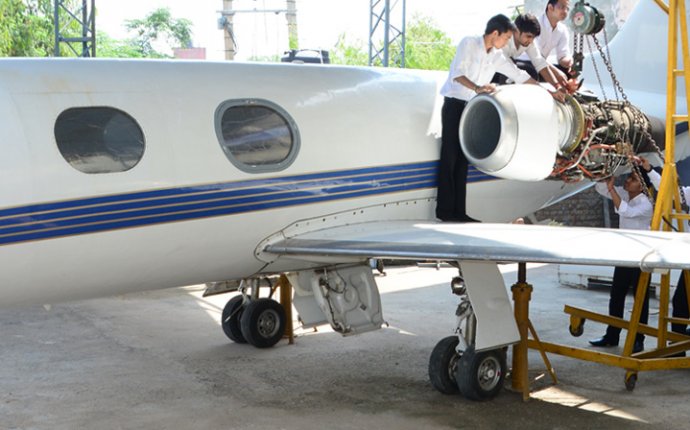 Star Aviation Academy
Press-Register, G.M. AndrewsAn aviation academy is coming to B.C. Rain High on Dauphin Island Parkway.
As Airbus announced this month that it would build a $600 million aircraft assembly plant in Mobile, officials with the Mobile County schools were already busy planning the curriculum for a new aviation academy to be established at B.C. Rain High, just three miles from the Brookley Aeroplex.
"This is perfect timing for Mobile, " said Larry Mouton, executive director of workforce development for Mobile County Public Schools. "Coming out of our economic slump, this is going to put us into a great position to motivate our students to become more involved in career-technical education, and to be prepared for high-wage, high-demand jobs."
The long-struggling B.C. Rain is in the midst of a $15 million renovation and is improving its academics with an $8 million federal grant.
The Dauphin Island Parkway school will pilot its new Aerospace and Aviation Academy in the upcoming 2012-13 year with up to 80 students, Mouton said.
Freshmen and sophomores enrolling in the academy will take classes introducing them to the aerospace and aviation fields. They'll go on field trips to aerospace companies and visit post-secondary training facilities. They'll also participate in hands-on science labs involving aerodynamics and rocketry.
Eventually, many of them will be able to earn college credit through a partnership with Enterprise-Ozark Community College.
Fifty-four students have already signed up, said B.C. Rain Principal Marlon Firle.
Starting 2013-14, students who live outside B.C. Rain's attendance zone will be allowed to transfer into the academy.
The goal is to admit another 40 students each year, Mouton said. About half will enroll in the aerospace track, and the other half in aviation.
School officials hope to draw high-performing students who want to go into aerospace engineering, and even lagging students whose interest in aviation technician or mechanic jobs might be an incentive to keep them in high school.
An apprentice, for example, can start out making $18 per hour, and workers can go on to make as much as $60, 000 a year. "That is good, strong money, " Mouton said.
Firle said the academy is a natural fit at B.C. Rain.
"We're in a prime location next to the Brookley complex, which is practically at our back door, " Firle said. He added that officials at local aerospace and aviation companies have told him that "they want their workforce to come from Mobile. So, if we can produce a workforce for our partners, then they don't have to go outside of Mobile to recruit."
The school system is planning to offer at least one specialized academy at each of its 12 high schools. Davidson High, for example, has an engineering academy, while Murphy High is home to international studies and culinary arts.
"It's all about trying to increase the graduation rate and make sure our graduates come out prepared, " said Jeremiah Newell, who has worked on planning the academy with the Mobile Area Education Foundation. "It's really a cutting-edge approach."
School officials began talking about establishing an aviation academy at B.C. Rain about a year and a half ago and have been in serious planning for the last eight months, Firle said. The school system has been working with Airbus, ST Aerospace, Mobile Aerospace, Star Aviation, Enterprise-Ozark Community College and Whitney Bank, among others.
The Airbus announcement, Firle said, "was like a dream come true. It couldn't happen at a better time."
Airbus expects to employ about 1, 000 at a plant that will assemble A319, A320 and A321 aircraft, which are single-aisle passenger airplanes. The first planes should roll off the assembly line in 2016.
The school system will build a $500, 000 facility at B.C. Rain for the academy that may also be used by Enterprise-Ozark college in the evenings, Mouton said. B.C. Rain received a $50, 000 grant from the Alabama Department of Education for the academy, $50, 000 from the Mobile County Commission and will ask for further help from local companies.
"We're giving the young people in this community the chance to be involved at an early age in the aerospace field, " said Mobile County Commissioner Mike Dean. "When they leave the school, they can go in all kinds of directions, from maintenance to assembly and engineering."
The school system already has aviation programs at its two career-technical centers, Faulkner in Prichard and Bryant in Irvington. But students have to be bused to those programs from their regular high schools.
"There's no greater time to be in aviation in Mobile than now, " Newell said. "It's going to take a while to get everything up and running, but once it is, this is going to be the kind of thing that all kids can be excited about. Even if they're not going into the aviation field, they'll be doing hands-on work that will teach them to be productive in general."
Source: blog.al.com