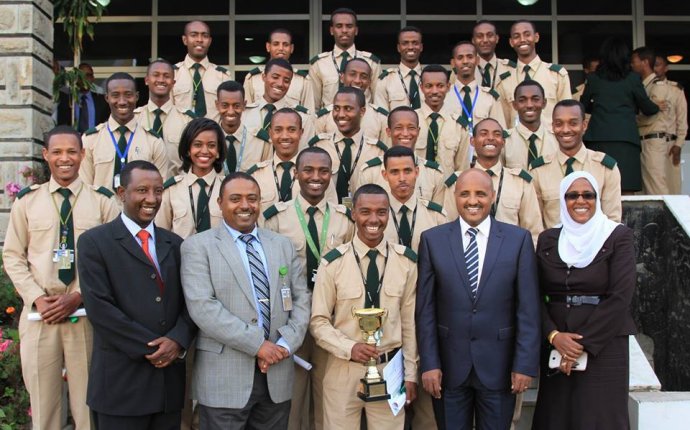 Best Aviation Academy
ERAU. Photo: Blsims/CC BY-SA 4.0
Embry-Riddle Aeronautical University has a reputation of being the best aviation university in the world. Dubbed the "Harvard of the Skies, " by many, it's the oldest and largest when it comes to aviation university programs. The university website claims that the airlines hire more graduates from ERAU than from any other aviation university.
Location: ERAU is divided into three campuses:
Daytona Beach, Florida
Prescott, Arizona
ERAU Worldwide & Worldwide Online
Tuition: $33, 826 (plus flight costs)
Students: 4, 500 (Daytona Beach Campus)
Degree Programs: Over 60 degree programs are offered at ERAU, including Aeronautical Science (the flight program), Aeronautical and Aerospace Engineering, Global Security & Intelligence, Air Traffic Control, and Business Administration, to name a few. ERAU also offers Master's degrees in Aeronautical Science, Aerospace Engineering, Business Administration (MBA and MBA-Aviation), Human Factors, and Space Education, among others, and is one of the only universities to offer a Ph.D. in Aviation.
Fleet: Embry-Riddle's two main campuses each offer the Aeronautical Science program, with over 90 airplanes (many of which are equipped) and 40 simulators, including at least one full flight Level D simulator. The Worldwide campus offers online courses and classes at over 150 satellite locations across the world.
UND. Getty/Scott Olson
The John D. Odegard School of Aerospace Studies at the University of North Dakota has long been known as one of the best aviation schools in the country.
Location: Grand Forks, North Dakota
Tuition:
Residents- $8, 138 (plus flight costs, ​books and fees)
Non-residents - $11, 476 (plus flight costs, books and fees)
Students: UND has almost 12, 000 students throughout all of the university's degree programs. About 900 of those are in the flight program.
Degree Programs: UND has a large range of liberal arts degree programs, along with aviation programs. Within the John D. Odegard School of Aerospace Sciences, students can earn a degree in Airport Management, Aviation Management, Air Traffic Control, Aviation Technology Management, Commercial Aviation (fixed wing or helicopter), Flight Education or UAS Operations. UND also offers a Masters of Science in Aviation and a Ph.D. in Aerospace Sciences.
Fleet: The Department of Aviation at UND has over 120 aircraft, including helicopters and unmanned aerial systems. In addition, the university has 16 FAA-approved flight training devices and a regional jet simulator.
WMU. Image: TheKuLeR/CC BY-SA 3.0
Western Michigan University is one of the top-100 public universities in the country. Its College of Aviation has been around for 75 years and has established itself as a well-regarded program in the aviation industry.
Location: WMU is located in Kalamazoo, Michigan. The flight department is located at W.K. Kellogg Airport in Battle Creek.
Resident- $9, 794
Non-resident - $24, 109
Students: About 25, 000
Degree Programs: Western Michigan University offers at least 240 academic programs overall. In its College of Aviation, students can major in Aviation Flight Science, Aviation Management & Operations or Aviation Maintenance Technician.
Fleet: The WMU College of Aviation has 26 Cirrus SR20 aircraft, two Piper Arrows, six Piper Seminoles, an American Champion Super Decathlon, two Cessna 150 aircraft and a Piper Super Cub.
A Level 5 CRJ -200 flight training device provides jet equivalency training for WMU aviation students.
Purdue. Public Domain
As the university from which Neil Armstrong graduated, The flight school at Purdue University has earned the nickname "Cradle of Astronauts" according to US News & World Report. It's also the only university at which every flight student in the flight program flies a jet.
Location: West Lafayette, Indiana
Residents: $10, 002 (plus flight costs, books and fees)
Non-residents: $28, 804 (plus flight costs, books and fees)
Students: Total number of undergraduate students at Purdue is approximately 30, 000.
Degree Programs: Purdue has 10 colleges and schools, with a total of almost 200 majors. Within Purdue's College of Technology, students can major in Aeronautical Engineering Technology, Air Traffic Control, Aviation Management, or Flight (also called Professional Flight Technology). The College of Technology at Purdue also offers a Masters of Science in Aviation & Aerospace Management.
Fleet: Purdue's Aviation Department operates 16 Cirrus SR20s, two Piper Seminoles, a Super Decathlon a Beechjet and a Phenom 300.
Source: www.thebalance.com