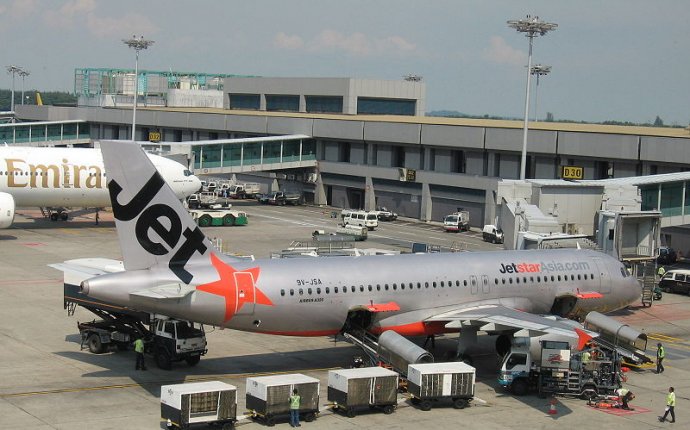 Air India Aviation Academy
MUMBAI: The airline industry is flying high again, and so is the job market for cabin crew.
Indian carriers are in the market to hire flight attendants en mass, as they add planes and fly to more destinations to meet increasing demand for air travel. After being in the red for several years, most airlines are reporting profits now, giving them confidence to expand.
India's top two carriers, IndiGo and Jet Airways, are each recruiting more than 1, 000 cabin crew over the next one year, senior executives at the airlines told ET. At state-run Air India, the plan is to get 800 on board.
SpiceJet will be hiring 100 flight attendants a month for the next three months and thereafter 75 every month. Go Air is inducting 50 each month, CEO Wolfgang Prock-Schauer said in a recent interview. Based on their expansion plans, Tata Sons' two ventures, AirAsia India and Vistara, are expected to recruit at least 300 cabin crew members between them over the next 12 months.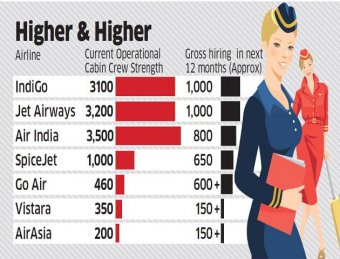 This hiring spree is backed by the Indian market's fastest expansion in several years. Domestic air traffic grew 18% in 2015 over 2014, the fastest annualised growth rate in the world, figures from global lobbying body International Air Transport Association show. This year, India has been outpacing the world every month in demand growth, IATA has said. India's fleet size is about 63% of the entire South Asia, but its outstanding orders for planes account for 95% of those from the region, global consultant CAPA-Centre for Aviation wrote in a recent note. Airbus has said it will deliver one plane every week to Indian carriers for the next ten years.
While the rosy industry fundamentals are likely to keep the job market hot, a chunk of the new recruitments at airlines is to replenish vacancies created by attrition. Pilots and crew constitute a job segment which sees the maximum churn in the industry. For example, of the 1, 200 hires that IndiGo made last year, about 900 were net additions while the rest were replacements.
Meanwhile, the recruitment process for cabin crew has undergone a major shift over the years, say industry executives.
Summi Sharma, vice president of corporate learning at IndiGo, said the number of freshers — high school graduates — as a chunk of total cabin crew recruits has steadily increased in the past few years.
Many also join from other professions. "We get applicants from various walks of life. We get call-centre employees, hotel executives and even nurses and lawyers and teachers and national level sportspersons, " she said.
Airlines say they are investing significant money and time in new recruits to train them to suit their demands. This is leading to a declining relevance of cabin crew training institutes.
"The training such institutes impart is extremely generic, " said Kamal Hingorani, head of in-flight services and customer experience at SpiceJet. "They are taught for the hospitality industry as well as for airlines: things like how to serve meals in proper order, etc. There is no training imparted which is specific to regulatory mandates on how an airline should be operated. Also different airlines have different operations manuals and styles. And what we are primarily looking at is the basic attitude to provide service."
Until a few years ago, a quarter of SpiceJet's total cabin crew from the six metro cities came from flight attendant training academies. Now that number has shrunk to below 10%.
"No matter which institute a new recruit comes from or for that matter how many years of flying experience a candidate comes with, we invest 99-100 days of rigorous training for them all to turn them into IndiGo cabin crew, " said Sharma from IndiGo.
Gloria Shroff, vice president of training academy Aptech Aviation, acknowledged the generic nature of the training imparted to its students in these institutes, but defended them saying the grooming provided would put graduates at an advantage over freshers. These institutes assume more relevance in these small towns, as youngsters there have less exposure to the kind of grooming that airlines look for in their cabin attendants, Shroff said.
Another change in trend is the number of applicants from small cities, Sharma said, as there is higher awareness, openness, encouragement and family support for women to choose this career option.
Also, career progression opportunities aren't limited to just flight attendance, said airline executives. Five former IndiGo cabin crew are now pilots. Many others have joined the operations team or have moved to the HR department as instructors and facilitators.
Source: economictimes.indiatimes.com