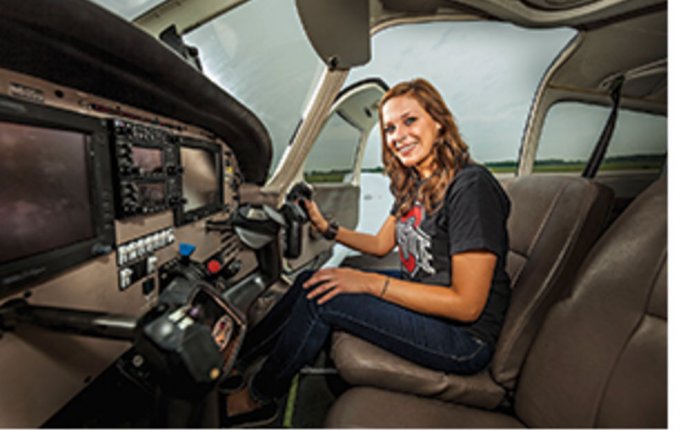 Best College to become a pilot
It's an annual rite of passage for millions of high school seniors: anxiously checking their mailboxes for thick envelopes and weighing their options about where to go to college. For that special breed of student who couldn't imagine anything less than a career in aviation, the choices become somewhat clearer. If your goal is to become an aviation professional — whether you aspire to be a pilot, an air traffic controller, airport manager, unmanned aerial vehicle operator or something else — enrolling at an aviation college could be your surest ticket to that dream job.
If you're a young person contemplating your career choices (or if you have kids who've reached that age) you've probably received plenty of advice about how to crack the civilian aviation job market. If your aim is to become a professional pilot, one of the traditional paths is to sign up for flying lessons at a local flight school. That leaves you free to pursue a degree in something completely outside of aviation — say, computer science or international finance — giving you a fallback education should you one day lose your medical or wind up the victim of an airline furlough. There's certainly wisdom in that suggestion, but it might not be the best choice for long-term success for every pilot.
If your objective is to land a job flying for a major airline, it's important to understand that the rules of the game have changed in favor of getting an aviation degree. You've probably heard that the FAA has increased the minimum requirements needed to land that first airline job. As of August 2013, airline first officers must hold an ATP certificate versus a commercial ticket. The requirements to obtain an ATP have changed as well — and if you graduate from an accredited aviation college or learn to fly in the military, you have a leg up on other aspiring pilots.
For a standard ATP allowing you to apply for a job with a regional or major airline, you must have logged 1, 500 flight hours and be at least 23 years old, the same as before. What's changed is the creation of a new "restricted" category of ATP license that allows you to fly as an airline first officer with fewer hours and at age 21. Earning a four-year degree from an approved aviation college lets you obtain an R-ATP license with just 1, 000 hours. Learning to fly in the military drops the requirement to 750. And if you earn an associate degree from an accredited aviation college, you'll need 1, 250 hours for the R-ATP.
Still, because the new ATP rule is so new, very few colleges have received approval from the FAA to offer the reduced hourly requirements. The good news for college-bound students coming up through the ranks, as well as recent grads, is that the FAA has agreed to approve degrees earned by some aviation college graduates for five years. That gives colleges and universities time to submit their degrees for approval without generating winners and losers who fall on either side of an arbitrary date.
Career Goals
For the right type of person, pursuing an aviation degree can offer the surest path to a long and rewarding career — and quite possibly make you a better professional pilot. The opportunity to become 100 percent immersed in aviation subjects is another strong factor for college students who choose an aviation program over other degree paths. For instance, even if you like numbers, getting an accounting degree when what you really want to do is fly jets can be counterproductive.
Enrolling in a college flight program immerses aspiring pilots in their chosen field, where they learn alongside other passionate young aviators.
"As an incoming freshman at an aviation college, you'll be totally engrossed in aviation from the moment you step on campus, " said Craig Smith, a senior at Western Michigan University, who has his sights set on a career as a corporate pilot. "You'll get to know fellow aviation students very well as you eat, breathe and sleep aviation together day in and day out. For most of the aviation students here, that's exactly the environment they were looking for."
Smith's experience as a student at a four-year aviation college is fairly typical of most undergrads on a professional pilot career track. He spends most of his time in class, studying, flying and working, with ground school, simulator sessions and a full-time course load occupying the majority of his waking hours. By their junior or senior year of college, many flight students also begin instructing part time at their schools. Embry-Riddle Aeronautical University, the nation's largest aviation college with main campuses in Florida and Arizona, will even pay the cost for you to earn a Master of Business Administration while you build time and make a little money on the side as a flight instructor.
Source: www.flyingmag.com