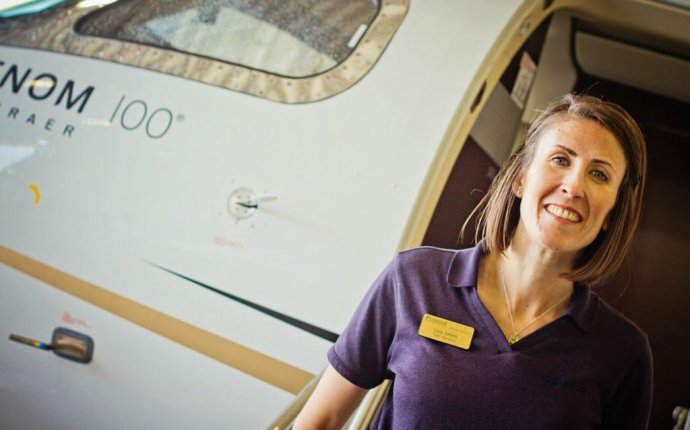 Becoming a Corporate pilot
A decade ago, a pilot considering a corporate flying job was assumed to be biding his time until that dream airline job came along. After all, what pilot in his right mind would choose a career of shuttling corporate executives and their pals around, handling their baggage and arranging the catering? To some, corporate flying seemed akin to being an aerial limo driver.
Then along came the tragedy of September 11, which sent the airline industry into a tailspin. The airlines are just about getting through the recovery phase now. By the thousands, airline pilots found themselves not only out of work, but watching the careers they'd spent years building fall apart. Salaries and benefits for airline pilots plummeted as one carrier after another slipped into bankruptcy. This time, however, pilots didn't just find themselves wondering how to make a living while awaiting recall. They found themselves asking if it would even happen at all.
Today, thousands of professional pilots have learned that corporate aviation has evolved into a worthy alternative to airline flying. As a career, corporate aviation – also called business aviation – offers aviators a number of opportunities that are not available to airline pilots. Business aviation pilots often fly the newest jets wearing attractive names like Gulfstream, Learjet, Citation, and Global Express. In addition to carrying the most sophisticated on-board avionics and airline-like safety equipment in the cockpit, business airplanes are now capable of traveling internationally. A Bombardier Global Express captured a world record when it easily made the leap from Chicago to Paris nonstop with a half dozen passengers aboard.
An increase in commercial air travel delays, due to a range of security restrictions has convinced many executives to either buy their own company aircraft or enter into partnerships, allowing them access to point to point service as needed.
Additionally, the nation's aging air traffic system has added new stress to travel between major airline hubs. Business aviation's ability to avoid the O'Hares, La Guardias and the Hartsfields has focused a new light on business aviation's flexibility. A recent forecast from Embraer, a builder of a variety of business and commercial aircraft, shows a need for some 13, 000 new business aircraft by 2018. Over 1, 500 jets and turboprops were delivered in 2007, alone. While some are counted as replacement airplanes, others found homes as additions to current fleets, or were purchased to establish a completely new aviation department. The General Aviation Manufacturers Association recently said that, including all business aircraft, those considered non-airline accounted for sales of nearly $21 billion in 2007. All of these aircraft, of course, need pilots to fly them.
Corporate aviation has made incredible strides in salary, benefits and schedules in order to attract and keep good pilots. In the past, job security was practically nil, and flying jobs with the Fortune 100 companies were about the only that paid well, and only then its most senior pilots. Small airplanes, mostly turboprops and light jets were the traditional realm of flight departments that often had trouble affording the expense of the fleet, let alone their pilots. And during difficult economic times, smaller companies would look first to the aviation department to cut costs. Now, however, a company aircraft is viewed as a business tool that resource management is reluctant to eliminate.
The seniority level of company personnel permitted to use the corporate airplane has lowered in recent years, meaning that the overall usage has increased. In years past, a business aviation flight crew that flew 400 hours per year was thought to be busy. Today, a busy airplane chalks up around 700 hours per year.
One Falcon 2000 pilot based in Chicago flies for a Fortune 100 company. Employed by the business for seven years, he now earns a six-figure salary, flying about 550 hours per year. He told FAPA.aero that the position offers him good health, dental, and retirement benefits that many airline pilots have seen disappear in the last decade. His flight time is normally scheduled weeks in advance with few last minute changes. While most runs are those regularly flown between his company's branch locations, he occasionally is called to fly to cities he's not visited before, an aspect of his job he finds appealing.
Where's the Beef?
Janice K. Barden has been an eloquent voice for business aviation for 35 years, since she opened Aviation Personnel International, a pilot placement service. She runs the company with her daughter, Sheryl, from her Napa Valley, California office. Barden explained why a pilot might choose a corporate career over an airline job. "If you are a people person and like having some say in your career, business aviation might be for you. This is a challenging career and I think you'll work harder than you do at the airlines." One important fact that Barden pointed out is, "There are no unions in corporate aviation and you don't always have a firm schedule. But as a corporate pilot, you're a direct ambassador for your employer, often with some incredibly important passengers. As the CEO's attache it is your job to greet passengers and assure them of the professional treatment they're expecting."
Personal flexibility is a critical aspect of this profession, says Barden. "If the crew is on the ground in Munich and the company suddenly sees a huge opportunity pop up in Africa, the airplane could well be headed for Johannesburg the very next day, rather than back home."
Barden's notes on personnel highlight the primary differences between corporate and airline pilots. On a typical trip, the boss might call the pilot, mentioning the need to fly next Thursday from Atlanta to Los Angeles with three other passengers for a dinner meeting. While vague to some, those instructions are thoroughly understood by the corporate pilot.
stylish glasses for men
stylish living room ideas
stylish outfits
stylish laundry basket
stylish filing cabinets
stylish bathroom ideas
stylish waterproof backpack
stylish ergonomic office chair
stylish text
stylish letters
stylish cat tree
stylish backpacks for men
stylish walking clothes uk
stylish thing crossword clue
mens stylish slippers
stylish gold bracelet designs for girls
stylish formal pant shirt
ll stylish
stylish s letter
stylish microwave
stylish men
stylish eid mubarak images
stylish bike helmets
cool and stylish girls with attitude
stylish mens winter coats
stylish kitchen
women's bike helmets stylish
stylish sunglasses for men
stylish hiking boots womens
stylish gym outfits
stylish outfits for women
stylish names for shops
stylish filing cabinets uk
best in print stylish crossword clue
stylish hoodies
stylish foot mehndi design
stylish shoes
stylish dresses
stylish fb cover photo
stylish dining table
stylish baby boy clothes
stylish chair
stylish clothes for over fifties
stylish mugs
stylish changing bag
stylish bedside table
stylish desks
stylish office accessories uk
stylish armchair
office chair stylish
stylish wall clock
stylish haircuts for men
stylish bedroom
stylish floor lamps for living room
stylish waterproof shoes women's
stylish garden furniture
stylish man crossword clue
stylish bathrooms
your stylish home discount code
stylish mens glasses
stylish luxury modern kitchen designs
stylish clothes for 70 year old woman uk
stylish dining chairs
stylish floor lamp
stylish glasses for women
stylish track suit for ladies
stylish nails
stylish ankara short dresses
stylish sunglasses
stylish dog crate
stylish simple gold ring design
stylish chrome
stylish wellies
aran knit is stylish but rebellious
stylish tv stand
stylish mens jackets for winter
stylish homes
stylish filing cabinet
little stylish gifts
stylish furnitures
stylish sixth form outfits
stylish dog walking bag
stylish rugs
stylish handbags
stylish tv units
stylish coats
stylish office desk
stylish watches for men
stylish dog bed
stylish bedroom design 2022
stylish tops for women
stylish womens winter coats
stylish kettles
stylish modern conservatory furniture
mens stylish jumpers
stylish photo poses for men
stylish bedrooms
stylish short haircuts for women
stylish waterproof coat
stylish scrubs uk
affectedly pretty and stylish crossword
stylish womens steel toe shoes
stylish haircuts
stylish smart watches
stylish mens winter boots
stylish safety shoes
stylish clothes websites
stylish modern sofa design
mens stylish trainers
stylish modern dinner set
stylish home office chair
stylish teacher outfits
stylish home office
stylish hair cutting
stylish dog beds
stylish office chair uk
stylish shoe rack
stylish yoga clothes
stylish clothes for big guys
stylish womens glasses
stylish cushion cover designs
the stylish dog company
stylish handbag
stylish workwear
stylish jeans
stylish kettle and toaster set
mens stylish suits
stylish sofa beds
stylish tops
stylish desk accessories
stylish boots for women
stylish digital wall clocks
stylish writing
stylish orthopedic sandals
in a stylish manner
stylish baby clothes
stylish mug
stylish profile picture
stylish t shirts
stylish tshirts
stylish beard
stylish windows
stylish shoe storage
stylish raincoat
stylish curtains
quick stylish crossword clue
stylish trainers womens
stylish walking shoes
stylish establishment crossword clue
stylish sunglasses for women
stylish slippers
Source: fapa.aero