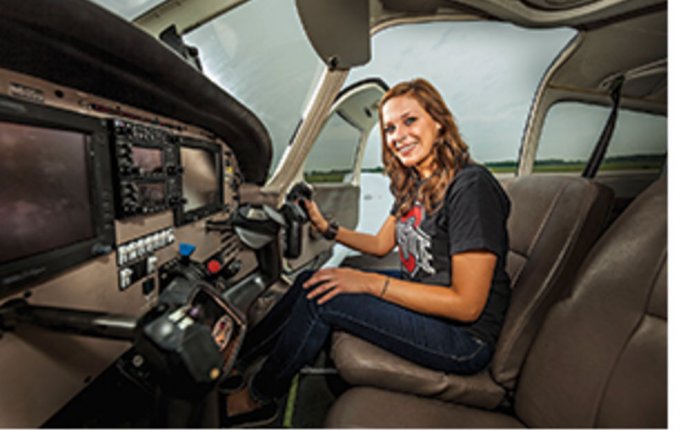 Schools that offer Aviation Degrees
There are over 300 two- and four-year colleges with aviation programs and aviation schools in the United States and world-wide that offer various aviation programs (including non-engineering programs) to students interested in pursuing a career in aviation. Many of the aviation programs will allow you to either earn an aviation diploma, certificate or rating, aviation degree, an Associates and/or Bachelors degree (which is dependent on the type of school and their aviation programs).
The process of preparing and applying to an aviation college can be an intimidating and confusing process. This is why it is very important to learn as much as you can about the basics of preparing and applying for college. The more you know about your options and the application process; you can make an informed decision about your educational and aviation career goals.
Note: Throughout this channel, the word "college" is used to refer to all post secondary institutions-technical colleges, junior colleges, community colleges, other two-year colleges, and four-year colleges and universities.
Why an Aviation School or Aviation College?
Aviation schools and aviation colleges provide the best learning and training environments for students to succeed and prepare for a career in aviation. You may already be aware of the many benefits of going to college such as better paying jobs, access to a wider range of career choices, and exposure to a wide range of people and cultures. Going to an aviation school or aviation college also has many benefits.
An aviation school or aviation college will allow you to:
Gain greater knowledge and expand your skills in a specific aviation career field.
Earn an aviation degree, an associate's degree, and/or bachelor's degree in an aviation program.
Access a wide range of aviation resources and tools to help you with your aviation career.
Participate in various aviation internship programs.
Increase your chances of networking with aviation employers to gain employment.
TIP: Your goal is to find an aviation school or aviation college that is right for you and an aviation career that suits your interests.
There are various aviation programs offered by aviation schools, aviation colleges, and two- and four-year colleges and universities with aviation-related programs. Many of the aviation-related programs offer similar courses, but none of the aviation programs are alike because each aviation school's curriculum and courses are different. Aviation programs are designed to match your interests, abilities, career goals and prepare you for an aviation career.
How to choose an Aviation College

Choosing an aviation college that meets your educational goals, career goals, and individual needs is not an easy task and is an important decision to make. When choosing a aviation college you must consider the quality of education, reputation, accreditation, admission requirements, college costs, and how you plan to pay for college. The process of choosing an aviation college typically involves: knowing what you are looking in a school, researching those schools, and making a final decision.
In order to help you with this important decision, you should read the articles under 'How to choose an Aviation College.'
• Determine your Aviation Career goals
• College Accreditation
• Select Aviation College Characteristics
• Research Aviation College Options
• Request College Applications and literature
• Develop a Short List of Aviation Colleges.
• Visit the Aviation College(s).
•
Financial Aid (Scholarships, Grants, and Loans)
Searching and applying for financial aid (i.e. scholarships, grants, etc.) requires planning and resourcefulness. In order to receive the maximum amount of financial aid you may be eligible to apply for and possibly receive, you must create a plan and start your scholarship search early.
Financial aid is typically awarded to students attending an accredited school, so make sure the school you attend is accredited. if you attend an accredited school. You should never assume that you are not eligible for financial aid based on your family's income. Remember, some scholarship providers award scholarships to students based on their academic achievements, athletic talents, artistic talents, and other merits.
If you are planning to attend an aviation college/university, trade, technical, or vocational school, you should have a clear understanding about the entire financial aid process. Visit the Pay for School and/or Paying for Flight Training channels to help you understand the financial aid process and identify the various financial aid and scholarship sources.
Job Placement Opportunities with Aviation Employers
Most aviation colleges have formed partnerships with aviation employers to possibly employ their schools' students. These partnerships may take the form of internships, cooperative education programs, or entry-level job positions. Although the schools have formed partnerships with aviation employers, you and the other students will compete for these job opportunities. It is highly recommended that you attend an aviation college that offers networking and job placement opportunities to students enrolled in their aviation program. To learn more about internships and cooperative education programs, visit
Aviation Employers
.
College Basics
The college preparation and application process is relatively simple, once you familiarize yourself with the college basics.
Topics to help you understand college basics:
Why attend college?
Types of Post secondary Schools
Types of Degrees
College Admission Terms
Preparing for College
In order to improve your chances of being admitted to a college of your choice, you need to prepare for college academically and outside the classroom.
Steps to help you prepare for college:
Questions to ask guidance counselors
Recommended High School Courses
Courses for College-Bound Students
Prepare for college outside the classroom
College Choices
Now that you have identified your career choice, your next step is to select a school that match your needs.
Topics to help you understand your choices:
Types of Post-Secondary Schools
How to choose a school
College Costs
Financial Aid and Scholarships
Applying for College
There are numerous steps you must take to complete and submit your college application in a timely fashion.
Steps to help you complete your application(s):
Admissions Process
Supporting Documents
How to create a competitive application.
The College Interview
College Basics
The college preparation and application process is relatively simple, once you familiarize yourself with the college basics.
College Admission Terms


Preparing for College
In order to improve your chances of being admitted to a college of your choice, you need to prepare for college academically and outside the classroom.

Prepare for college outside the classroom


College Choices
Now that you have identified your career choice, your next step is to select a school that match your needs.

Financial Aid and Scholarships


Applying for College
There are numerous steps you must take to complete and submit your college application in a timely fashion.

The College Interview


Source: www.avscholars.com

LATEST EDUCATIONAL POSTS

TWITTER ACTIVITY

Rebellious Val

RT @RichShaffer108: Tuskegee Airmen @TAINational 2017 National Youth Academy @TAMuseum Tomorrow's Aviation Museum 24-28 July #LosAngeles ht…

Thursday 30, March 2017 03:18 AM