School of Aviation Science and Technology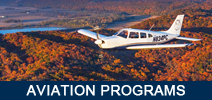 Leaders in Aviation
Saint Louis University's Parks College was the first certified flight school in the nation and has been educating top professionals in the aviation field for more than 85 years. Parks College continues to lead the way in aviation with research and recently celebrated conferring the first Ph.D. in Aviation in the world!
What Makes Us Stand Out?
We encourage our students to ask why. The Parks curriculum encourages students to reflect on their training. This enables students to fully comprehend and master each skill. We expect that our graduates are among the best-trained pilots in the industry. Learn more about Our Curriculum.
We educate the "whole person". This means that our students aren't just great pilots, they are well-rounded individuals who make meaningful contributions to their communities, aviation and otherwise. Parks graduates have excellent critical thinking skills to solve real-world problems, especially when it comes to the complex ethical decisions aviation professionals face. Learn more about our Aviation Degree With A Jesuit Foundation.
We fly different planes. Our students learn on fuel-efficient aircraft. Our planes are equipped with GPS capabilities, but we want our students to learn to rely on themselves, not advanced technology. In the event of power failure, our students have the tools they need to fly, and land, safely. While other aviation college's may be concerned with the latest, greatest gadgets, we are focused on the fundamentals of flight. We know that this helps us train better pilots. Learn more about Parks College's Aircraft Fleet.
We have great air space. Located between Lambert - St. Louis International Airport and Scott Air Force Base, our aviation students learn to fly in a complex and dynamic, radar environment. They work with St. Louis approach and departure control, and routinely fly into both towered and non-towered airports.
We have FAA approval for reduced ATP minimums. Parks has been granted a Letter of Authorization from the Federal Aviation Administration, making graduates eligible for a maximum reduction of 500 hours towards the 1, 500 hour requirement for the Airline Transport Pilot Certificate. This could save the graduate anywhere from six months to two years of building flight time post-graduation and give them a head start on their career. Learn more about the ATP Certificate.
Bachelor of Science in Aeronautics Degree
SLU's Parks College offers a Bachelor of Science degree with two concentrations in aviation, each aimed at providing students a well-rounded degree that prepares them for success in specific areas of the airline industry.
Source: parks.slu.edu