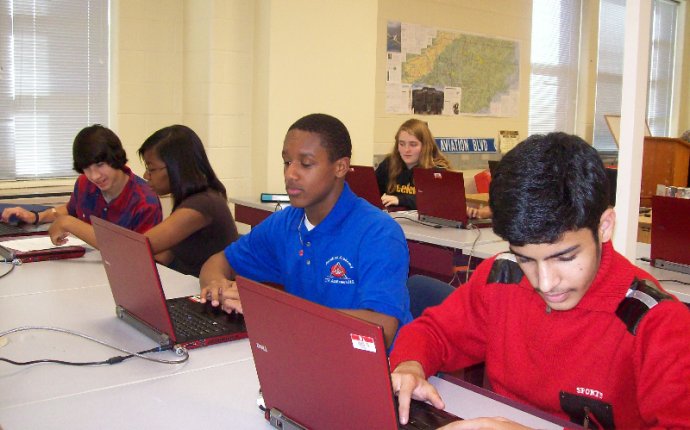 Free Aviation School
allows students to earn college credit while attending high school, giving them a head start on the technical training needed for certification. Students can work on and around aircraft while broadening their knowledge of aeronautics, astronautics, and engineering.
The Andrews Aviation Academy Early College Program
Location: T.W. Andrews High School
The Aviation Academy is an Aviation Early College Program that prepares advanced students for the aerospace and engineering fields through a hands-on, project pased, inquiry-driven process.
Andrews Aviation Academy offers four tracks: Engineering, Aviation Managment/Pilot, Airframe and Powerplant (A&P) mechanic/Technician, and Avionics technician.
Students can earn credit toward their Federal Aviation Administration (FAA) and industry certifications/licenses and graduate high school with up to two semesters completed at Guilford Technical Community College (GTCC). Tuition and books are free.
College credits earned can transfer to Embry-Riddle Aeronautical University or to most other colleges and universisties, such as NC State, NC A&T or UNC, if a bachelor degree is desired.
Job Shadowing and paid summer internships for workforce experience in the aviation field.
SolidWorks 3-D mechnacical engineering class with cetification test.
Everybody learns to fly. Class set of Hotseat Flight Simulators for the ultimate experience.
Aviation Manufacturing class that will prepare a student to enter the workforce with little additional training. School-to-work program.
Flight simulator to log airplane instruction in students' own pilot logbooks.
Young Aviation Club, Civil Air Patrol, Rocketry Club and Robotics.
Reach for the moon and land among the stars at Andrews Aviation Academy!
At-a-Glance Information Sheet
We are an Early College Program
Engineering, Pilot, Avionics Tech, Airport Management, and Airframe & Powerplant Mechanic
Who Can Apply?

Students in grades 9-12

Application Process

Application, paragraph, and two teacher references

Application Deadline?

None. Apply anytime during the school year

Qualifications

2.5 GPA minimum.
Excellent behavior and attendance

Transportation?

Provided free by GCS, in most cases

Course Work

Advanced Placement (AP), Honors, and STEM courses. Varied Career and Technical Education (CTE) offerings: engineering, electronics, computers, auto tech, and scientific visualization

Colleges

GTCC & Embry Riddle Aeronautical University

College Credits Earned

Associate Degree Credits transfer to other colleges and universities

Fees

All college courses and books are free

Other school activities

Sports, Band, Drumline, TARC Team (rocketry), Young Aviators Club, 30 clubs and organizations

Other

Paid Internships ("Earn & Learn")
Certifications and licenses
SolidWorks (3-D engineering/design)
Flight simulators
MakerBot 3-D printer and Wind Tunnel

School Hours

8:50 AM – 3:50 PM
chamorro food
szechuan cityview
enthusiasts food
bowling green ohio
future past present
airport marina ford
futurology uk
bissell little green
futurology websites
enthusiasts vs experts
homewood suites by hilton fort worth west cityview
sea green
cityview classic cars ft worth
the future at the bottom of pyramid
success is not final quote
future beyond 5g
humor verb
business class flights
future yeezy releases
between future tense
airport around orlando fl
futurology of education
future beyond meaning
future legends complex
futurology congress
enthusiast looks
futurology kiosk recklinghausen
humor yoga
good deeds movie cast
futurology bangla meaning
future zodiac sign
before future boy
flights to spokane from seattle
spinal stenosis surgery success rate
humor punching up
good deeds coffee
green bay
into future synonym
future islands tour
enthusiast movie
airport usps
airport food
maggie green
humor without sarcasm
green book
futurology bangla meaning
futurology là
zhumor instagram
future by paramore
cheapest day to book flights
future zamasu
weight loss success stories
future from 8 mile in real life
future how many how many
vantage cityview fort worth
future before fame
enthusiasm jelentése
futurology immortality
enthusiasts wine
future by drake
humor opinie
good deeds nashua nh
marjorie taylor green
good deeds title company
enthusiast holdings
humor vs wit
is top ships going out of business
sense of enthusiasm within the project team
future tense french
bella green
until further notification
success real estate school
gcu student success center
invitro fertilization success rate
futurology history definition
miami to atlanta flights
airport zip code
cityview apartments charlotte nc
future atlanta
airport up
futurology science
flights to orlando from nyc
future relationship between uk and eu
curb your enthusiasm pro wrestler
green bay packers score
futurology in business
future energy
future before nostalgia
iron dome success rate
future proof against
futurology tracklist
Source: www.aviationtriad.com