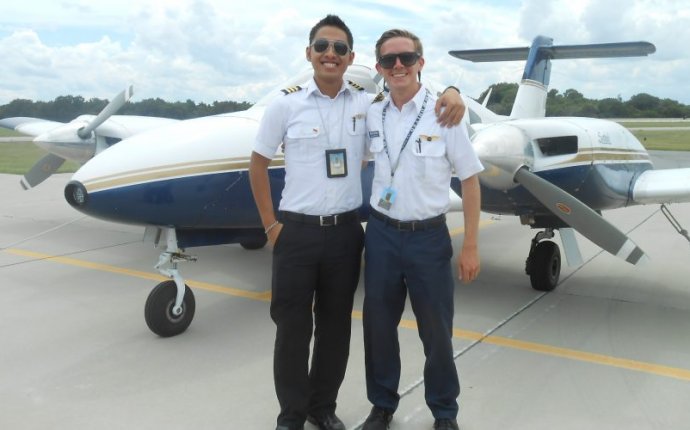 Commercial Aviation School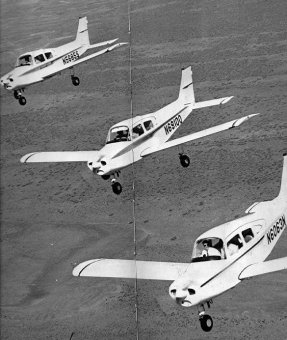 Font Size: /
If you are looking for the best pilot training resources in the Pacific Northwest, you have come to the right place. Students enrolled in Big Bend Community College's Commercial Pilot Program get to fly during the first week of classes. The pace doesn't slow as students progress through a rigorous two-year program that prepares them for a career as a professional pilot. Our graduates are pilots for many corporations, charter operators, major airlines throughout the world.
BBCC student pilots work toward a college degree and commercial/instrument pilot certificates at the same time. Some students take more than six quarters to complete BBCC's pilot training program, so summer classes are an option each year. Additional ratings for flight instructor, instrument flight instructor, multi- engine, and seaplane also are available.
Most of our pilot training is done with Beechcraft Sport, Beechcraft Sundowner, Piper Warrior III (glass cockpit), and Beechcraft Bonanza aircraft. BBCC's fleet also includes a Citabria, a Cessna 180, and the twin-engine Piper Seminole. We also provide pilot training on three Frasca Simulators to enhance instrument training.
You can't match our pilot training environment. Our flight school is located adjacent to the Grant County International Airport, which boasts one of the longest and widest runways in the Western U.S. Students get the experience of flying in a high density environment nearly every day. Our students are in the air with wide-body commercial jets, military aircraft, helicopters, and often Boeing's latest aircraft.
Key to BBCC's pilot training success over the years is that we have an incredible 350 VFR flying days per year (less than 8 inches of rainfall), which means our student pilots are progressing while students at other flight schools are grounded by bad weather. The airport has four runways and 13 instrument approaches. BBCC's pilot training program uses unobstructed airspace nearby for training maneuvers.
Our Flight Training Center is located near taxiways, aircraft maintenance, storage hangers, fuel and washing areas, and classrooms. The flight line is within walking distance of BBCC residence halls, dining commons, and other college facilities.
BBCC Commercial Airline Pilot students must meet appropriate admission requirements listed in the department's professional pilot course handbook. Students need to provide a copy of their FAA Class II student pilot medical certificate and transcripts. A $200 deposit is required.
BBCC's aviation team enjoys giving tours of our facilities and equipment. Contact us and set up a tour.
Aviation Program Outcomes
Aviation Program Outcomes for Students completing an Associate Degree
Students who successfully complete stage 3, shall obtain a FAA Private Pilot Certificate.
Students who successfully complete stage 6, shall obtain a FAA Instrument Pilot Certificate.
Students who successfully complete stage 7, shall obtain a FAA Commercial Pilot Certificate.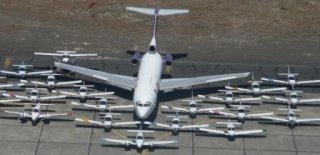 Over 40 years ago with three airplanes and 23 students, Big Bend Community College established its commercial pilot training program – one of the college's most successful vocational training programs. Today, Big Bend Community College's name is recognized world wide as a leader in graduating competent well rounded professional pilots.
Our program is a FAA authorized community college, commercial training program, that was started in the fall of 1965. The program started out at the Moses Lake Municipal Airport (the college was on the south campus and the air base had not yet been vacated).
In the fall of 1967 the program was serving approximately 100 students, the aircraft fleet had grown to 11 aircraft and the program was moved to what had formally been Larson Air Force Base. The move to the air force base helped our program grow over night. The college was granted many of the former facilities on the air base, many of these especially adopted to aircraft use. The Flight department now had ample hanger storage, ramp space, classroom facilities, excellent runways and ample airspace with a variety of instrument approaches. The major advantage of the move for our students was the ability to have our program flight facilities located on the Big Bend campus.
In 2003 the state and Big Bend collaborated to remodel and expand the college flight training center. Our training facility space doubled with the addition of additional offices, classrooms, simulator and study space. This has enhanced developing relationships with baccalaureate partners to offer four-year degrees in aviation in Moses Lake. Many of our students take classes from Big Bend Community College, Central Washington University and Embry Riddle while attending our program.
Today, there are approximately 120 students, 23 aircraft, fourteen instructors and two mechanics. During the course of our two-year program, an average student will fly 220 hours to gain a commercial pilot certificate with an instrument rating. Aviation training at Big Bend is taken in conjunction with academic or vocational courses that the student chooses, to fulfill the requirements of the Associate in Arts and Science Transfer Option or the Associate in Applied Science Occupational Program.
With our many years of experience, state of the art facilities, excellent weather and one of the largest airports in the world a visit to our college will convince you that our program is one of the finest in the country.
Vertical takeoff? We saw it live.
Big Bend aviation students experience a unique training environment and never know what they might see at the Grant County International Airport. This video shows Boeing's 787 Dreamliner performing a vertical takeoff during practice for the Paris Air Show.
how long does it take for hair to grow
gisou hair oil
curly hair salon
dark brown hair dye
laser hair removal prices
light blue hair
under hair dye
human hair extensions
girl with black hair
wedding hair styles
red ombre hair
light purple hair
hair colours 2020
becky with the good hair
african hair braiding styles pictures 2020
perm hair men
oils for hair growth
dyson hair dryer sale
hair styles for kids girls
oil for hair growth
dark red hair dye
soft locs hair
scene hair
short hair
purple shampoo for blonde hair
damaged hair
mahogany hair color
facial hair removal for women
how to.curl hair with straightener
long layered hair with bangs
elon musk hair
best shampoo for hair loss
low porosity hair products
hair wax color
colored hair
she's happy hair
hair claw clips
mens hair cut
how to clean hair brushes
men with long hair
plaited hair
how to pass a hair follicle drug test
caramel balayage hair
kinky hair
black hair salon near me
curly girl hair
hair salons near me open now
short hair hairstyles
cute hair colors
3c hair type
natural hair dye
haircuts for long hair men
does creatine cause hair loss
hair skin and nails gummies
best nose hair trimmer
water wave crochet hair
natural blonde hair
dark brown hair color
plopping hair
hair loss women
brad mondo hair
blue hair color
toner for blonde hair
x-pression hair
hair pick
girl with black hair
wedding hair styles
90s hair styles
hair perm
hair bundles
hair serum
beach waves hair
vellus hair
taper fade curly hair
chestnut hair color
choppy short hairstyles for thick hair
type 4 hair
hair products for curly hair
hair store open near me
blonde curly hair
hair growth vitamins
jungkook long hair
choppy medium layered hair
grey hair styles
shaggy hair
thin hair low maintenance thin hair shoulder length hairstyles
passion twist crochet hair
bowl cut hair
Source: www.bigbend.edu