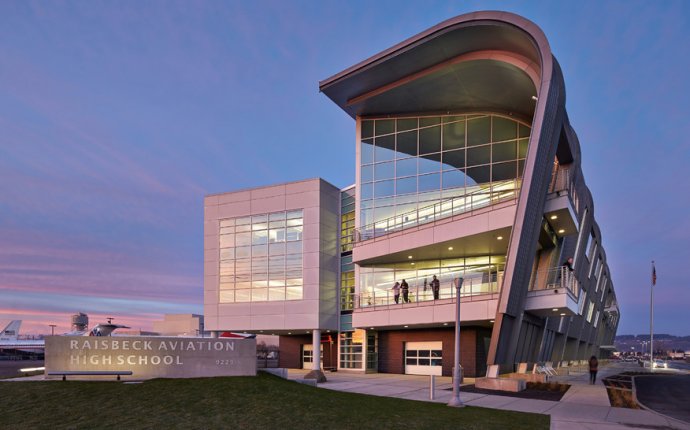 Aviation High School New York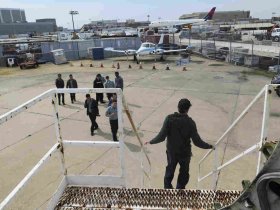 Mike Fisher, a teacher at Aviation High School, talks to students from the stairs leading up to the school's Boeing 727. Gabrielle Emanuel/NPR hide caption
toggle caption
Gabrielle Emanuel/NPR

Mike Fisher, a teacher at Aviation High School, talks to students from the stairs leading up to the school's Boeing 727.
Gabrielle Emanuel/NPR

New York's John F. Kennedy International Airport is among the busiest in the country: More than 1, 000 flights touch down and take off each day. More than 50 million passengers hurry through its gates each year.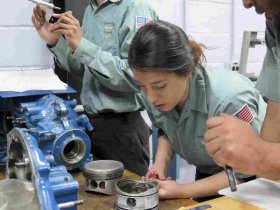 But something else is happening, too.
Not far from the waxed floors of the terminals and the automated voice proclaiming the end of the moving walkway, there's a school. And a classroom that has six wheels, two wings and a tail. It is a Boeing 727, parked on the tarmac near the hangars and warehouses.
Joseline Lazo works on fixing a four-cylinder aircraft engine during class at JFK Airport. Gabrielle Emanuel/NPR hide caption
toggle caption
Gabrielle Emanuel/NPR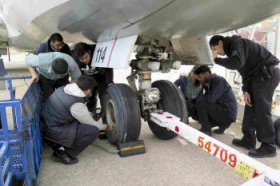 Joseline Lazo works on fixing a four-cylinder aircraft engine during class at JFK Airport.
Gabrielle Emanuel/NPR

The first-class seats have been stripped down to expose their metal innards, and spun around to face a whiteboard.
Welcome to Aviation High School.
On this particular day, about 20 students are gathered by the nose tires to practice checking the air pressure.
"It's scary business, " says Mike Fisher, in a raspy Bronx accent. "If somebody tried to put the pressure from the bottle straight into the tire, they'd blow the tire up."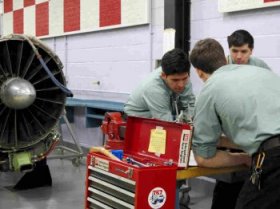 The students crouch down and check the pressure gauge carefully.
Aviation High is a highly sought-after school in the nation's largest school district. It's funded by New York City's department of education and accredited by the Federal Aviation Administration.
The JFK school is a large annex of Aviation High's main campus in Long Island City.
All told, there are about 2, 200 students. They graduate with a diploma and a license that lets them work in the aviation industry. The JFK campus is reserved for some of the school's best students in their final year.
They take all the normal courses, plus classes on turbine engines, pneumatic power controls and airflow systems.
Source: www.npr.org