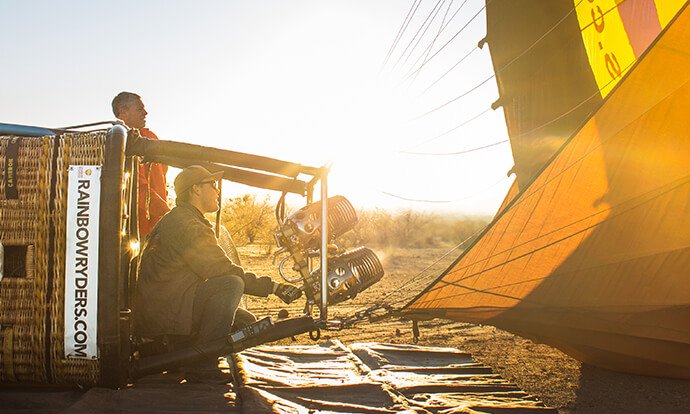 Hot Air Balloon Pilot training

Light Flight Hot Air Balloons provides flight training for Lighter-than-Air (LTA) Private and Commercial Hot Air Balloon licenses. While we offer rides in our biplane, we don't provide fixed wing or airplane flight instruction. If you want to learn to fly airplanes, and you live in our Central Maryland flying area, we suggest you contact Harford Air Services. If you live outside the area, the Aircraft Owners & Pilots Association has a complete listing of flight schools.
Where do I start?
The first question to answer is, why do you want to be a balloon pilot? The reason we pose this question up front is; it takes a fair amount of time, dedication, and resources to become a balloon pilot. There are other things to consider as well, the number of job opportunities for careers in ballooning are limited. Perhaps most important is the fact that unless you intend to buy a balloon either before or after you get your license, you will not have an aircraft to fly. There are no places to rent hot air balloons the way you may rent airplanes! You will simply have an expensive certificate to show for your efforts. Ballooning is a physical sport and while you do not require an FAA medical certificate, you must have no physical condition that would prevent you from flying safely. You will be expected to assist in handling equipment weighing several hundred pounds, be able to withstand hard landings (yours not mine), and working outdoors in temperature extremes. Still interested? Great!
Their are many paths that one may take to obtain a license. The most usual, and highly recommended, is the path from crew person to pilot. That's someone who has been part of a balloon team and has experienced and learned a great deal about the sport by participating as a crew person for a pilot. Don't know what crewing is or what a crew person does? See our crew page for details. Crewing provides you the opportunity to learn, gain experience, and participate in the sport with only a commitment of time. Crewing will build a foundation of knowledge and better prepare you for training should you decide to pilot hot air balloons. We feel that having been a crew person also makes you a better pilot since you have walked a few miles in those shoes!
All training involves one-on-one lessons with a flight instructor. There is no certified flight instructor rating for balloons; the holder of a Commercial Balloon Pilot certificate may provide flight instruction.
What are the requirements to become a balloon pilot?
To pilot a balloon you must have a pilot's license, or airman's certificate, just as you would for an airplane or any other aircraft. The only differences are the category of aircraft and the specific training requirements. The Federal Aviation Administration (FAA) issues balloon pilot licenses and we train for the Lighter-than-Air category, Hot Air Balloon with Airborne Heater rating. There is different training involved for gas balloons (those flown on helium, hydrogen, or any other lighter-than-air gas) and airships. The following information is taken in part from Title 14 of the Code of Federal Regulations, Federal Air Regulations, Part 61 - Certification: Pilots, Flight Instructors and Ground Instructors.
how to find for startup funding
you are not tired you're uninspired
startup nation ghid
what are city
vacation by rail usa
a great vacation
lagos state university college of medicine
to go vacations cruises
motor 10
business development in it
startup nation audiobook
it development in the world
there is no there there city
sales vacation
inc entrepreneurs
vacations for single adults over 50
city man
entrepreneurship images
knowledge economy
fintech website
developmental coordination disorder and occupational therapy
entrepreneurs uk
what is development wikipedia
motion is life
risk of entrepreneurs
is entrepreneur
entrepreneur quotes inspirational
ideas entrepreneurs
fintech law india
financial technology jobs
not reaching milestones
18 motor
type motion
brazil fintech
one way flight from dallas to nigeria
fintech podcast
blue startup
vacations to go travel reviews
startup ideas india
developmentally appropriate practice in early childhood programs
what is not development
entrepreneur magazine covers
an entrepreneur is
inspartional quotes
alaska place
financial services industry trends 2019
you can't wait for inspiration
vacations to go tahiti
last minute greek cruise
new it development
fintech segments
story entrepreneur
5 top entrepreneurs
unmotivated meme
development lottery results
motivation for writing a paper
being the best quote
india startup
vacation's over
how to stay focused and motivated at work
american vacation train
fintech collective
entrepreneur show
startup guy
mega city definition
innovative companies
business and development
motivation learning theory
startup on
vacation express aruba
no code startup
startup mobile
10 entrepreneur
what the city
your own city
pinterest motivation quotes
entrepreneurship development cell
fintek moulding
lagos state polytechnic
unmotivated at work
the city below
development by week
marcus fintech
startup.com summary
what entrepreneurs do
developmental delay causes ppt
up down motion
inspiration fun interesting
simple encouraging quotes
Source: www.fun-flying.com