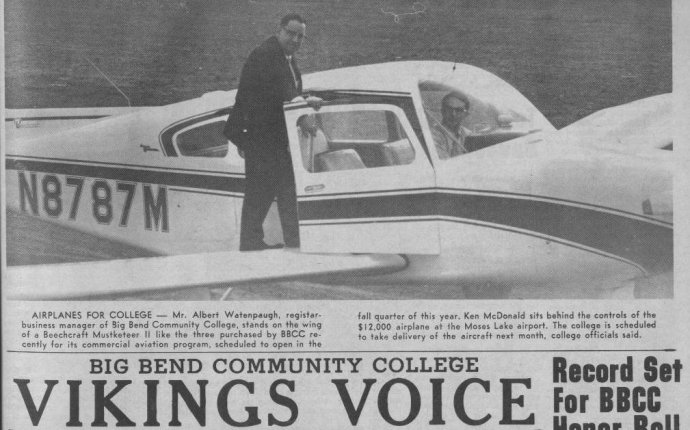 College that offer Pilot training
Why You Should Go and How to Select One: Aviation professionals are not born, they are educated.
By Scott Spangler
If you are considering a professional aviation career, think seriously about the adjective that modifies aviation. "Professional, " as defined by the dictionary, means "of, engaged in, or worthy of the high standards of, a profession; designating or of a school, especially a graduate school, offering instruction in a profession."
Further consider "professional" as a noun — "a person practicing a profession; a person who engages in some art, sport, etc. for money, especially for his livelihood, rather than as a hobby; a person who does something with great skill."
These definitions could have been written with aviation in mind because it definitely has high standards, and the people who meet these standards certainly must exhibit great skill. Aviation professionals are not born, they are educated. With professional aviation's increasingly complex and high-technology environment, being an aviation professional, today and in the future, requires more than just knowing how to fly.
Few of the major airlines require a college degree for employment, but in the past several years, more than 95 percent of the pilots hired have at least a four-year college degree. If you want an airline job, you stand a better chance if you are among the 95 percent with a degree than the 5 percent without one.
Aviation is an exciting career field, and because you can earn an above-average income, competition for jobs is keen. Traditionally, military pilots often place first in the employment contest. Civilian pilots consider this unfair, but look at it from the airlines' pragmatic point of view. Military pilots are college educated, which means they've proven themselves in an academic environment. Employers know they will do well in the challenging training environment that is an ongoing part of any professional's career.
Employers also know that military pilots have been trained to an exacting, accepted proficiency-based standard. And because of the military's structure, and the fact that many military aircraft have more than one crewmember, employers know that military pilots are "team players, " that they understand and use cockpit resource management, which is essential in all phases of aviation.
Despite all the applications, interviews, and examinations, hiring a new pilot is a risk, say airline human resource personnel. There's always the chance that a pilot might not do as well as the selection process indicates. This wastes a lot time and money, which any airline must use effectively if it hopes to survive and prosper. For this reason, airlines hire pilots with proven skills and abilities because they are the most likely to return the airline's training investment.
The military isn't training as many pilots as it used to, but the competition hasn't eased. It's just shifted to civilian pilots. Nor has the airlines' hiring philosophy or needs changed. They hire the civilian trained pilots who offer the best chance for returning the carriers' investment. This is why more than 95 percent of the pilots hired have four-year degrees.
The airlines' preference for college-educated pilots is only natural because colleges and universities have tailored their academic and flight programs to meet the industry's specific needs. They understand that while good stick-and-rudder skills are important, it takes more then knowing how to fly to be an aviation professional.
What College Teaches
Professional pilots today are "flight managers" who must intimately understand the workings of their computerized and fly-by-wire stick and rudder, and who must work with and depend on a crew of professionals that goes far beyond those in the cockpit.
These are the essential skills students learn and practice in today's collegiate aviation programs, but the value of a college education goes beyond these aviation-specific skills. Typically, your first two years of college will be devoted to "general education" classes. While they seemingly have no direct correlation with aviation, they do, and additionally, they'll make you a well-rounded individual.
Math, physics, and computer-science classes help you understand your career's technical aspects. English makes you a better oral and written communicator. Sociology and psychology give you a better understanding of human nature. History and the humanities give you insight and appreciation for man's development, achievements, and blunders. Economics makes clear the forces that will act upon your career.
When people think of aviation, they naturally think of pilots. But pilots are just one cog in the vast human machine that makes aviation work. If it were not for aeronautical and electrical engineers, airframe and powerplant (A&P) and avionics technicians, meteorologists, air traffic controllers, aviation managers at all levels, and a host of others, we wouldn't need pilots (and the others wouldn't be needed if there were no pilots). These are all viable, rewarding aviation careers, careers for which you can become educated at many colleges and universities.
Those aiming for the cockpit should never forget that a failed medical (or a failed airline) can terminate a flying career without notice. This is another reason pilots should know more than just how to fly. If you don't have a degree, your career options are limited. But if you've been educated as a manager, engineer, or technician, you have career alternatives that will enable you to survive professionally and, perhaps, maintain your aviation "connection."
College Connections
College is one of the best places to make your aviation connection because it provides the education and contacts you'll need to succeed. Guidance counselors will help tailor your educational program to meet your career goals. They will explain what's needed when, and why, and they'll even help you refine your objectives and offer alternatives if, for some reason, you cannot attain the original goal.
is boric acid safe for pets
cool fish as pets
pams pets
pets classified
ugly pets
walter's world of pets
nick jr wonder pets
pets in remembrance
roblox pets
is ortho home defense safe for pets
value pets
homeward bound pets
craglist pets
low maintenance pets that like to cuddle
free pets adopt me
best carpet cleaner solution for pets
chicago craigslist pets
the spruce pets
www.craigslist.com pets
dream lites pillow pets
my pets wellness
all the pets in adopt me
wonder pets episodes
the sims 3: pets
elmo's world pets
save the wonder pets
craigslist watertown ny pets
little live pets hamster
twisty pets
idling to rule the gods pets
overlook bay pets
exotic pets you can own
alive pets
wagmor pets
small reptile pets
how to get free adopt me pets
everything pets
tick spray for yard safe for pets
hotels near me that accept pets
lost and found pets of the midsouth
racoons as pets
craigslist milwaukee pets
pretty pets
pillow pets pig
truecare for pets
runescape pets
pets login
craigslist muskegon pets
big lizard pets
sugar gliders as pets
mel the secret life of pets
cbd pets
people pets
bird names for pets
d&d pets
small exotic pets
jay prehistoric pets
disney princess pets
rx vitamins for pets
elf pets arctic fox
gold country craigslist pets
craigslist pets orange county
light up pillow pets
homemade weed killer safe for pets
123 pets login
fetch for pets
mini pillow pets
light pets terraria
pets in craigslist
rescue me pets
are rats good pets
rockstar pets
craigslist dayton pets
wonder pets characters
disney pillow pets
adopt me pets legendary
secret life of pets streaming
brainerd craigslist pets
big al's pets
funko pop pets
wonder pets ming ming
craigslist raleigh pets
craigslist des moines pets
adopt me roblox pets
people for pets
pets food
food names for pets
fun fur pets
adopt me neon pets
chameleons as pets
all pets medical
craigslist pets nc
food for pets
wonder pets save the reindeer
dees pets
craigslist pets indiana
reptile pets direct
pets wow
dnd pets
craigslist asheville pets
can you have bats as pets
craigslist colorado pets
cast of secret life of pets
genshin impact pets
apartments that allow pets near me
pets r inn fargo
kids and pets
Source: www.aopa.org