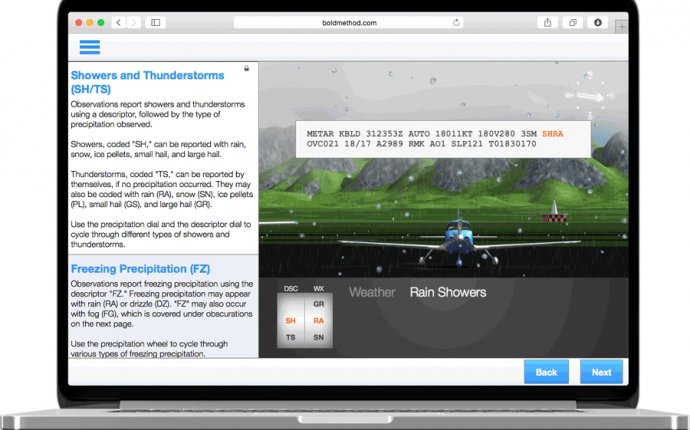 Aviation Weather course
This is an entirely new way to learn aviation weather. Our online course covers everything you need to know about aviation weather, including METARs, TAFs, Pilot Reports, Area Forecasts, Winds Aloft Forecasts, AIRMETs, SIGMETs, and Convective SIGMETs in an incredible and interactive way. It's an excellent way to prepare for your checkride, flight review, or to keep your flying skills sharp.
This course works on your computer, and your tablet and phone (Andriod and iPhone). And if you have an iPhone or iPad, you can use the free iOS app too!
No internet connection? No problem. The course travels with you, working online and offline. Best of all, you can learn in short segments or cover entire sections - helping you fit your training into your schedule, whether you have 2 minutes or 2 hours to learn.
The Aviation Weather Products Online Course + Free iOS App
The Aviation Weather Bonus Quiz App
Video: Weather Questions For Private Pilot Oral Prep
Interactive graphics illustrate each section of the map, highlighting information as you go. Practice sessions allow you to quickly use what you learn, and are optimized to help you learn quickly, no matter how much time you have. End-of-chapter tests make sure you fully understand aviation weather, and make sure you're ready for your checkride.
The course breaks down aviation weather into sections on:
METARs
TAFs
Pilot Reports
Area Forecasts
Winds Aloft Forecasts
AIRMETs, SIGMETs, and Convective SIGMETs
A final test makes sure you're ready to go, whether it's for your private pilot checkride, a biennial flight review, or simply helping you keep up-to-speed.
While the course breaks practice sessions into small increments as you learn, the Bonus Quiz App groups practice questions into major groups. You can quickly review questions covering broad topics - helping you practice for a checkride or keep your skills sharp.
Best of all, you can practice whenever you have time. Even if you only have five minutes, you can answer a few questions and pick back up later.
The Bonus Quiz App includes sections on:
Source: www.boldmethod.com