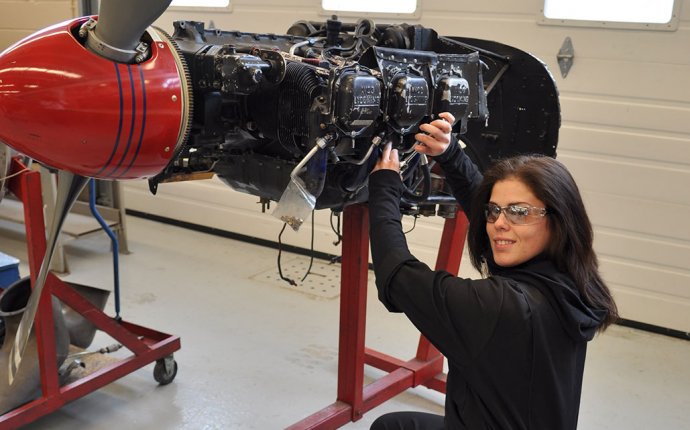 Aviation Technician Courses
Worldwide, the 21st century has seen an increased need for safe, secure and properly maintained aircraft. Aviation maintenance technology continues to play a greater role as a unique field in which there is a high degree of mechanical aptitude and little margin for error. Upon entering the world of aviation maintenance, your training must be relevant, must include a variety of courses for specialization, and must offer you plenty of opportunities to practice your skills before you enter the field.
In PCC's Aviation Maintenance Technology program, we offer you the opportunity to enter an exciting field in less than two years, providing you with the skills you need to enter a robust industry that relies on high-quality technicians.
Degrees and Certificates
In this program you can earn the following:
Associate of Applied Science Degree Aviation Maintenance Technology Two Year Certificate Aviation Maintenance Technology One Year Certificates Aviation Maintenance Technology: Airframe Aviation Maintenance Technology: Powerplant
In addition to the above degrees and certificates, a transfer degree to a 4-year Aviation/Industrial Management degree program may be possible. Check with a PCC academic advisor for more information.
Established, Affordable, Certified
Since 1969 PCC's Aviation Maintenance Technology (AMT) program has trained high-quality graduates to enter the field of aviation maintenance. Our program prepares you to enter an industry with both local and global career opportunities. Uniquely situated on the Rock Creek campus, our program offers numerous local resources, federal approval, and a uniquely designed curriculum that enables you to graduate in less than two years.
The total cost for the eight terms of the complete Aviation Maintenance Technology program is very affordable at approximately $16, 000. In addition, our program is certified by the Federal Aviation Administration and approved by the Veterans Administration. Our program prepares you to take national exams with the Federal Aviation Administration.
Source: www.pcc.edu